How to make your printer print more efficiently?
With the development of science and technology, the urban landscape is also waiting for more novel and transparent decorations to record human civilization and history. In this commercial economy era of advertising and media promotion, the advertising printing industry will usher in a climax of development, leading the development of digital printing to become a mark of the times.
In the production of advertising printing, high-efficiency printing will undoubtedly bring good business opportunities to merchants. So, how to realize the efficient printing output of the UV machine? There are several factors that can not be ignored in printing output efficiency. If you do these operations, I believe that yourUV printer will be able to achieve high-efficiency printing and achieve greater profit benefits.
1. Select high-quality uv printing equipment
Tiancai uv flatbed machine is a big brand among domestic photo machines. The high-quality printing equipment not only has high precision, but also has high printing efficiency. Skycolor uv printers have no problem in completing efficient printing. Choose high-quality printing equipment to save time, worry and effort.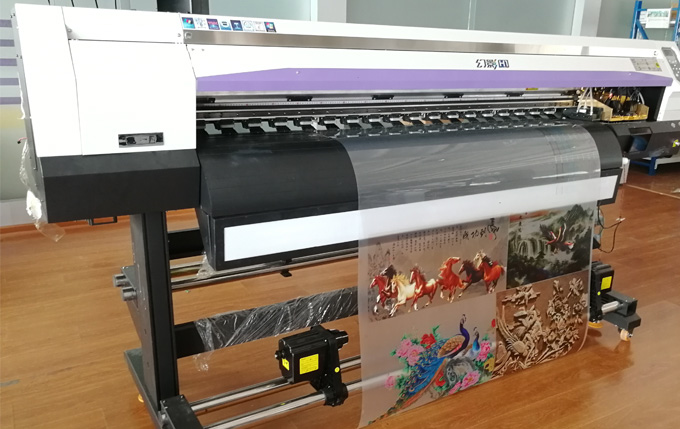 2. Using a computer and operating system with high configuration, combined with the high-speed transmission interface of the printer, can greatly improve the printing output efficiency.
In the selection of the uv machine, choose the uv machine product equipped with high-speed transmission interface, high-configuration computer, the transmission operation between the computer and the photo machine is faster, the computer operating system runs fast, quickly processes and caches image data, and sends data quickly, improving uv machine inkjet printing output efficiency.
3. Correct use, operation and maintenance of the printer, and use high-quality printing consumables.
If you want to achieve a higher inkjet printing output of the uv machine, you must do a good job in the use and maintenance of the uv machine at ordinary times to keep the uv printer in the best printing state at all times; at the same time, the correct operation of the uv printer machine can make you more proficient in the use of the uv machine use control to achieve fast printing operation; in addition, it is strongly recommended that users use high-quality inkjet printing consumables, such as high-quality inkjet printing paper media and original high-quality ink from the manufacturer or high-quality ink recommended by the uv machine manufacturer. Output the best image color, and can avoid the unknown failure of the uv machine during the inkjet printing process.
To sum up, if you want to keep your uv printer more efficient, you must keep the photo machine in good working condition, pay attention to maintenance, and choose a computer operating system with high configuration. To keep the printer in a good printing state, you must choose high-quality consumables. Ink and printing materials will also affect the printing effect and printing efficiency of the printer.
Zhengzhou New Century Digital Technology Co., Ltd (Skycolor UV Printer:
www.skycoloruv.com
) is a professional high-tech enterprise engaged in R&D, production and sale of skycolor uv flatbed printer,skycolor uv roll to roll printer and related consumables.
Over the years,company has accumulated rich experience in digital uv printing field and gathered a batch of employees with professional skills. With high product quality and standardized service system,company has won high reputation from global market and trust of cooperated units.