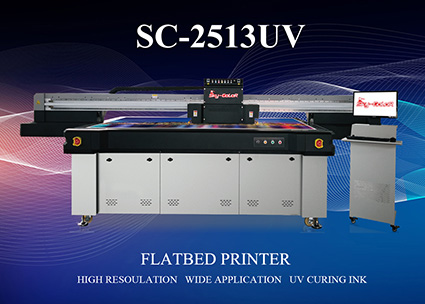 1) UV flatbed printer manufacturer's strength: the strength of the manufacturer determines the stability of the machine and the after-sales service. The newly established company often has unstable machines. If the manufacturer has the strength, the sales volume is large, and there are many types of machines for customers to choose from, and there are many technicians, and the after-sales service can keep up with it! The high price of large company's machines is also worth it. It's comfortable to buy them! Skycolor UV printer factory is a professional printer manufacturer with more than 300 staff,which is a reliable choice.
2) Machine quality: when buying a machine, you need to understand the machine structure, machine board, motherboard, printhead, software, etc. of the company. Often, these hardware and software are to determine the quality stability and controllability of the machine!
3)Printing Performance: sometimes we hear the negative information of some companies. We can't believe it all. We need to understand it with a skeptical attitude. After all, the competition in this industry is fierce. It's too complicated. It's normal for someone to attack each other. Especially for some big companies, the sales volume is large. They have grabbed many customers by their strength and attracted a lot of criticism. From this side, the more It's a company with criticism, the more powerful it is, the better the machine is. You'll find another surprise in reverse thinking!
4)After sales service: after sales service is often the most important part of the five elements. After all, printer is not a car Which has 4S stores everywhere for maintenance. No manufacturer can guarantee that 100% of the machines will not have problems. At least some problems will be encountered. What to do? It needs the strong support of the manufacturer! Large manufacturers have many technicians,so it's easy to dispatch tech for support clients! It's very convenient to call, which is the advantage of choosing a big company!
5)Machine price: UV printer price is often a secondary factor, but many customers consider the economic problems, often choose cheap machines, but remember, cheap goods are not good, don't dream to buy high quality goods with low price all day , don't be naive, There is no such good thing. Besides, in today's society, no much profit =no good service. so even if a factory can sell machine to you directly, it must be a small manufacturer, and there are not many technicians. Then you should pay attention to it. You must check whether it is the thing you need and the after-sales service you require, and you can't expect the machine offer you good performance!